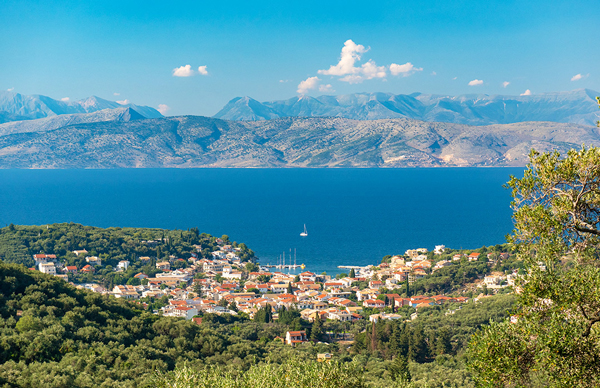 We will present the preferred accommodation types on the island and when is the best time to visit Corfu. We will not write about the most attractive places, we talked about places in the article `Where to stay in Corfu and The most beautiful villages in Corfu.
Corfu became an attractive destination to tourists in the 60ies when most of the, now famous, resorts apartments and hotels were built .Even today the grandest hotels still retained the eclectic and elegant architecture of Corfu that combines Venetian, French and British styles from the 15th to 19th century. Thus, while visiting Corfu, one might notice the lack of buildings comprised of glass and metal like most contemporary cities. In addition, most of the smaller in size hotels are run as a family business with the traditional Greek approach to hospitality.
There are additional approaches to people not wanting to stay in a hotel. Within the island there is a substantial number of guest houses and rooms for rent that are available throughout the year. Most of these options are in a very close proximity to the sea and this allows one to wake up each morning next to the sea while residing in a more comfy environment. For those though that gravitate towards a more luxurious lifestyle, Corfu has quite a few villas that combine the unique Grecian ambience, Ionian architecture and breathtaking view of the Ionian Sea.
When is the best time to visit Corfu?

Spring
Spending time in Corfu during the spring can be a truly beautiful, relaxing and wholesome experience. Since, that time is just before the start of the tourist season, finding a place to stay will prove to be a far less challenging endeavor compared to the summer months. During that time, Corfu offers quite a few attractions to entertain a visitor. However, one must be aware of the capricious spring weather and the rain season.
Summer
Summer, especially July and August, is the peak of the tourist season. Corfu is full of life, the beaches begin to get crowded and the weather is very nice. In summer rarely rains and temperatures do not fall below 30ºC, usually, the temperature is higher than 35 ºC. But prices in the season are much higher than in the offseason but of course, there are many more tourist attractions.

Autumn Winter
Autumn, especially September is a good time to visit Corfu. The temperature is a little lower than august but it is still warm and the water in the sea is conducive to bathing, the beaches are empty, so it is more peaceful and intimate. Unfortunately, from November it begins to rain, and humidity reaches up to 98%. Visiting the island in winter is not good idea because of the low obstructions, storms and the lack of tourist attractions.
Back