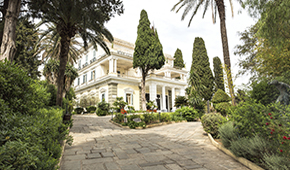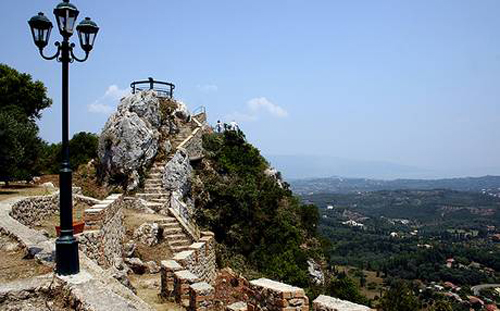 1. Kaiser Throne is a building resembling a huge balcony with a magnificent view overlooking the island . This amazing building is situated on a hillside at a height of 270 meters in Pelakas village . According to history Kaiser Wilhelm II spent his vacation here in 1908, and fell in love the place and built the "Throne" there .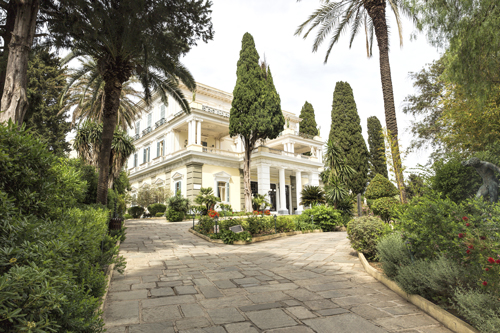 2. The Achilleion Palace is the beautiful palace located on the municipality of Achilleion, about ten kilometers to the south of the city of Corfu, built by Empress of Austria Elisabeth . Sisi was a woman obsessed with beauty and also in love with nature and especially plants. In 1890 Sisi built the summer palace and she named the building in honor of mythical hero Achilles.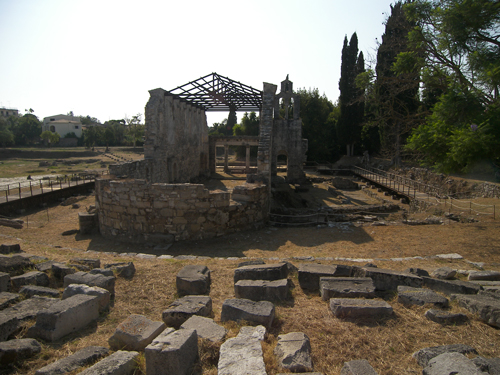 3. Paleopolis is the remains of ancient city of Corfu. This Byzantine basilica was built before 450 A.D. by Bishop of Corfu, Jovian. The church was a majestic early Christian basilica , very beautiful decorated, and was one of the biggest basilicas in Greece. This building has a reach history as many times was destroyed by Saracens , Normans , Turks ,at the end by the air raids during the Second World War. Paleopolis was rebuilt in 1680, by the Cretan monk Arsenios Caloudis. Today we can only admire the ruins of this majestic church.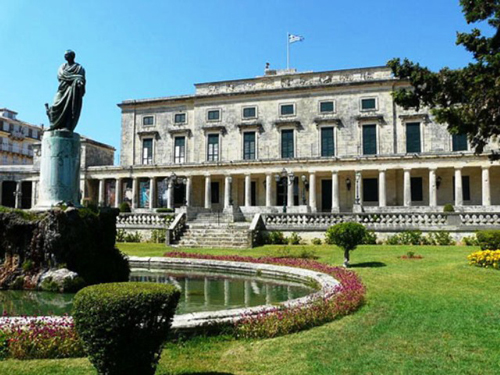 4. The Royal Palace, also known as palace of St. Michael & George. This luxury palace was built by British ,between 1814-24 and was the residence of Battalion of Saints Michael and George . The Royal Palace was the second in size in Greece, only second to the palace of King Othon in Athens. The palace was the project of well-known English architect Sir George Whitmore and was designed in English romantic classicism and constructed from Maltese limestone. Nowadays the Palace accommodates the Museum of Asian Art, the Municipal Art gallery, the 5th Ephorate of Prehistoric and Classical Antiquities, as well as the Municipal art café in its garden.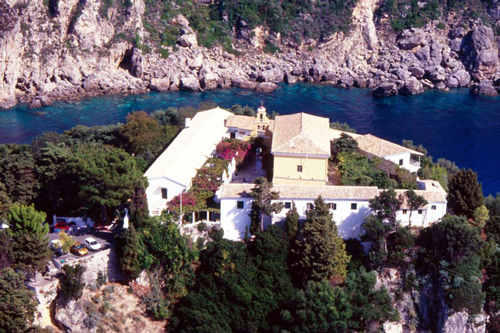 5. The Monastery of Paleokastritsa is a picturesque majestic church located on a green hill above the beach of Paleokastritsa, 25 kilometers outside of the City of Corfu. This Byzantine Monastery was build in 1228, but its present form owes it, in its rebuilding at the 18th century .The Monastery is a home to 8 Greek Orthodox monks who are subordinates to Bishop Efthimios Thouis. These monks at Panagia Paleokastritsa are always interested in helping those that visit their home. They are always willing to provide information or advice. Regardless of their faith, tourists from all over the world, will appreciate its spiritual peace qualities and also can admire the amazing view of the Monastery.

Look for more at Corfu Island
Back