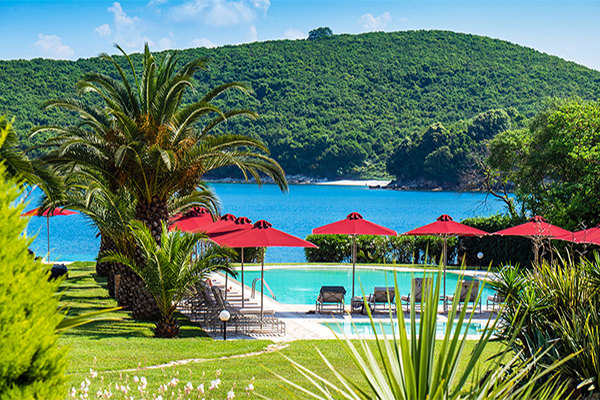 Corfu hotel is, not only, able to provide its customers with the option to rent a great looking, modern and comfortable room, but to also provide a substantial amount of additional facilities that enhance the vacation experience (of our most dear customers). Such facilities include pool or spa treatments for the clients who decide to spent some their time within the hotel. Being on vacation is a time where one is able to relax, meditate and take care of oneself, alone or with family and friends.
Thousands of people from all the world spend every year their holidays in hotels and resorts located near the sea. One of the benefits of being next to the sea is the effect of iodide in the air that improves a person's health, well-being and even helping with skin conditions. The iodide is in the air by being vaporized when the sea waves hit the shore. The largest concentration of iodine is found of a maximum 300 meters from the shoreline. Another important thing when it comes to deciding on your next holiday destination is the distance between the resort and the beach. Corfu hotel, by being next to the beach is a perfect option for people who just wish to be able to enjoy the summer with sunbathing, swimming and relaxing right when they step out of their room.
The spa is one of the best options when spending time on the hotel. A stay at the spa is an ideal option for friends, family and/or a spouse. Larger groups of people also will have a great time, while having massages or swimming in the pool. Such activities are a unique chance for relaxation, exercising and forgetting the routines of daily life that only cause stress and anxiety. By choosing a spa hotel, you will be able to relax as long as you like, enjoy long lasting health treatments and idyllic evening walks on the beach.
Being on vacations is the perfect time not only to relax, but also to improve one's skills. Beautiful scenery, the sound of waves and the sea breeze make it easier to relax and focus on the exercise, such as yoga. In addition, an uneven surface such as sand contributes to the formation of deep muscle. The combination of yoga with nature and the ability to adapt your workout to the prevailing aura and uneven ground is an ideal option for people who enjoy working out during vacations. The benefits of such kind of vacation will be long lasting and will be able to provide one with energy for one year of city life.
Back