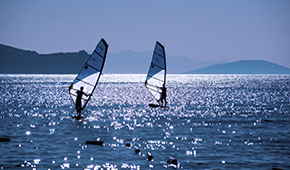 1.The Crazy Speedboat
Enjoy an amazing trip ,a speed run on a boat ,or ride the super-fast ex-military crazy speedboat.
2.The Water Park
On the island there are three such places, each of one offers unforgettable crazy slides and more, all of high-standard security.
3. Water Sports center
The always fascinating water sports are very popular on the island. Canoeing and water-skiing and also very, fashionable lately, paragliding, all sport guarantee an amazing experience and often amazing views of the island.
4. Diving Center.
If you like to dive into the fantastic underwater world of wonderful reefs, caves and wrecks this is the experience for you. A fascinating trip into the blue water of Corfu island .
5. Nautilus Underwater Experience
Here you can experience all the amazing underwater wonders of the blue Ionian Sea. The super modern sea craft with bullet proof glass bottom, it will give you a breathing view of the Ionian sea bottom better than Julius Vern himself could ever describe.
6. Bike Day Tours
Do you enjoy biking? Enjoy a ride on the green island, have even a cost effective and efficient workout while you can admire the gorgeous sea and other beautiful sites.
7. Boat Trip
This is the best way to run away the crowds and walk around the beaches of Corfu`s north-east coast. Renting your own boat with a captain is very common and efficient. You can be rent a luxury boat, equipped with all the necessary accessories, and spend the best time whit your family or friend.
8 . Fishing safari
Corfu is a fishing island, many boats companies organize unique fishing safari. If you like fishing, you won`t be disappointed
9. Horse riding
Horse riding is a unique form of active rest.
The best ways for discovering the most beautiful places of the islands, among others green hills of Corfu. You can find companies that offer riding near the Bella Mare hotel.
10. Sailing
Rent a sailing boat and sail the blue waters of the Ionian Sea, explore the most beautiful bays and harbors on the island. There are many boats that covers all the needs and your standards.
If you are then tired of all these crazy excursions, you can go to Bella Mare hotel and simply relax or enjoy a drink at its beach-bar.
Back