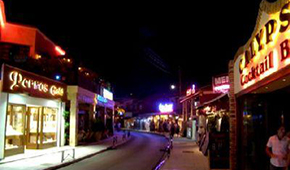 Corfu offers to the tourists a very active and crazy nightlife; also is one of the most cosmopolitan island of Greece. If you visit in Corfu at summer you can many places for crazy nights in beach party, exclusive night clubs or just go with your friends to a pub. We selected the best place for you. The most a popular spot for intensive nightlife are Palaiokastritsa, Glyfada, Benitses, Dasia, Goybia, Ipsos , but all the island loves the loud music, the alcohol and the dancing to the morning. Below is our list we created for you.
OLD TREE
This lovely club is located in beach Ipsos. What it stands out from other bars is that at the , in the center of the bar stands a big tree and all the bar is decorated with wooden decorations to fit in with that tree. It also offers crazy music and amazing atmosphere all night.
ANGELO`S BAR
This attractive bar is located in Kassiopi village in the north past of the island. This is it is rather one of the quieter bars with good music and friendly atmosphere, where you can spend nice time with your friends.
Bar B52
This is the most crazy and popular bar of the island , located next to the Ipsos beach offers amazing night with a lot of attractions like beach parties, rave parties, 60s, 70s, 80s night and many other events.
EDEM CLUB
EDEM CLUB is located on the northeast side of the island, in the Dassia village .If you are a fan of unique entertainment experience , you love dancing all the night in a beautiful place , you will found the best place for you .
APOKALYPSIS
This club is located in Corfu town center, near the new port. APOKALYPSIS is a modern club adored by young people and not only. It is separated in 2 parts: the inside stage and the outside stage, where you can enjoy music from all over the world, and also admire unique fire-shows and professional dancers. The craziest night experience on the island!
Back