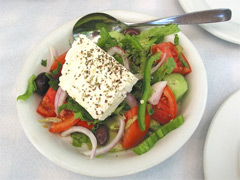 Food and Drink
One of the most traditional Greek products is olive oil. The oil harvest in most areas remains a traditional "family affair".
Olive trees tend to fruit on alternate years. As summer ends and the olives begin to ripen, gradually coloring from green to black, people begin to lay nets around the trees to catch the windfalls. These olives are generally gathered separately before the proper harvest as they produce oil of inferior quality (oil quality is measured by its acidity).
The harvest begins in earnest from the middle if October and often stretches right through the winter into March. The first oil is called "agourelaio" and is highly prized
Taverns
When going to local taverns it is normal to select the dishes of your choice from the menu. It is usually a good idea to consult the waiter on the specials of the day, as it is best the dishes that are most fresh. The majority of locals eat "mezedes" in the summer months consisting mostly of salads, fish dishes and items like tzatziki and humous. Traditional Greek cuisine is very simple, as Greece was (and still is in most parts) a poor country and relies very much on natural ingredients of the land and the sea. Traditionally, the diet for the majority of people was simply bread, olives (with olive oil) and wine.
In areas where there is little or no tourism you are best advised to select your choices from inside the kitchen, where food is served in hot trays. Taverns will grill most meats, except beef. Chicken, pork, veal and lamp in most restaurants will be cooked "well done" unless you specifically order it prepared in another way. Meat from cows is not popular, as it is considered "old meat". "Young meat" is preferred, as it is more tasty and easier to digest.
In most taverns there is a limited selection of fresh fish and it will be the most expensive food in the house. Fish is sold by weight and is chosen from the fridge or ice bucket. Squid and octopus is most likely to be frozen, but they are still delicious when cooked. Some of the dishes that you would be wise to try are horta, the locally made tirokafteri and taramosalata (when the right kind of fish that this dish requires is in season). For main courses try spetsofai, yemista, fakes, yigantes and if you are able to find it, fresh calamari.
Tipping
In Greece it is usual to tip the waiter, as is the custom in other countries (of course, providing the service was to a suitable standard). Usually, waiters are paid a very low salary and they make their income from their tips.
Starters
Dolmades – stuffed vine leaves, the filling varies. Some places fill them with just flavored rice, others with minced pork meat, while others use seasonal vegetable puree. Generally they arrive without sauce, in some places they are served with a white sauce.
Feta – Well known traditional white cheese made from goats milk. Baked feta is a very tasty alternative, often wrapped in foil with tomato, peppers and onion for a slightly spicy dish.
Melitzanosalata – An aubergine dip made with garlic, onions, lemon juice, fresh herbs and sometimes, mayonnaise. This is really nice when you are having salads and is served best with a fresh Greek salad and fresh bread. You will taste a different flavor in almost every tavern. The best ones are a little smokey in flavor and a little bit chunky.
Saganaki – Deep fried cheese served with a wedge of lemon (not to be confused with mussel or shrimp Saganaki which are completely different).
Scorthalia – A garlic dip, made with mashed potato, served cold as an accompaniment to fish (cod in particular) or it can be served as a side salad (meze style).
Spanakopita – Spinach pie made with filo pastry. These are delicious and the best ones tend to be the pieces of a large pie (not the small individual ones). The "spinach" is not always spinach, but is often "horta", which is a seasonal wild green that is equally delicious. Often spanakopita may contain cheese, usually feta.
Taramosalata – A fish roe dip made with garlic, onion, breadcrumbs, olive oil and lemon juice. The color of this dip may vary from pink, red, white or any combination of the three depending on the recipe that is used in the various taverns.
Tiropita – Cheese pie made with filo pastry, but in many different shapes. Not only ar there varying shapes, but also the cheese filling varies from shop to shop. Everyone has their own favorite, so it's best to sample a few.
Tzatziki – A very tasty, albeit strong, garlic dip traditionally made with yoghurt and cucumber. This goes with absolutely anything, and varies in texture. Some taverns like to puree it, others prefer it chunky, but it generally tastes the same everywhere.
Yigantes – butter beans cooked in tomato, onion and garlic sauce, with a sprinkling of fresh seasonal herbs. These are very filling – a dish of yigantes, a slice of feta cheese and some bread makes a very tasty, wholesome lunch.
Main Courses
Astakos (Lobster) – This can be expensive in Greece (compared to all the other dishes available) but it's still cheaper than you would find in the UK.
Atherina (Whitebait) – a larger, sardine size whitebait is called Marithes.
Bourdeto (a Corfu speciality) – fish served in a cayenne pepper sauce, occasionally served with scorthalia.
Choriatiki – Greek salad with fresh tomatoes, onions, cucumber, olives and feta cheese. Usually doused in olive oil and sprinkled with herbs.
Fasolakia – Runner beans in a tomato and herb sauce.
Garithes – Prawns or shrimp. These are generally served clean on the plate without any seasoning or sauce and always with their shells on. As an alternative, a dish called "garithes Saganaki" is prawns or shrimp cooked in a tomato, onion, herb and garlic sauce (sometimes with feta cheese) which is delicious.
Kalamarakia – Baby squid, deep-fried in batter. Usually frozen, but still very tasty and an ideal dish to sample in the hotter months.
Katsiki – Roast kid. This is delicious and not something that you are likely to get back home. It is really tender, "clean" meat (as the Greeks say) and it's very popular.
Keftedes – Deep fried meatballs flavored with garlic, and herbs (tzatziki is an excellent accompaniment). Like most dishes here in Greece, they will usually be served with a handful of chips.
Kotopoulo – Chicken. It is served either grilled, baked in the oven (with a lemon or red wine sauce) or, very often, in "souvlaki" style.
Ksifias – Swordfish. Meaty, dense and filling.
Lakano Dolmades – a variation on Dolmades, using cabbage leaves instead of vine leaves to wrap a filling of rice and minced meat (though again this can sometimes alter) these are usually served as a main course with a tasty lemon sauce.
Loukaniko (Spicy sausages) – Filled with pork meat, herbs and fat.
Moussaka – Layers of aubergine and minced meat, topped with béchamel sauce.
Papoutsakia – Baked aubergines filled with mince meat, topped with cheese. They are made in advance and you find them in the warm display trays like the moussaka.
Pastitsada (A Corfu Specialty) – Traditionally made with rooster (although nowadays more often prepared with beef) with spaghetti in a thick red sauce, sometimes served with potatoes.
Sofrito (A Corfu Specialty) – beef or veal cooked in oil, vinegar and garlic, usually served with mashed potato.
Stifatho – meat stew, (most commonly rabbit, but also found with beef). Flavored with red wine, garlic, bay leaves, onions and tomato. This can be quite a strongly flavored dish and is perhaps best eaten in cooler weather.
Yemista – Stuffed vegetables, mostly tomatoes or peppers, with either a vegetarian rice mixture, or with minced pork meat. ("Yemista" simply means stuffed – you can ask the waiter to explain which vegetable they mean).
Desserts
Greek desserts can be found in Confectionery shops and some can also be found in taverns.
Baclava – filo pastry with chopped walnuts and cinnamon, topped with honey syrup.
Halva – A very traditional pudding made with wheat, olive oil and almonds.
Drinks
Beer – You will find that the majority of the taverns and cafes only stock Mythos (a Greek beer which is very popular), Amstel or Heineken.
Greek Coffee – strong and thick, an acquired taste but worth trying at least once. Drink it with the same amount of sugar you would your normal coffee. Sketo (no sugar), metrio (one sugar) and Glyko (two sugars).
Local Wine (Khi-ma) – Red, white or rose, served by the kilo or half kilo in whatever containers are available, with a tremendous variety in taste.
Nescafe Frappe – ice-cold instant frothy coffee made with water or milk, served with or without sugar.
Ouzo – made from grape skins, stems and pips, tasting of aniseed. Can be drunk neat, with ice, or mixed with water.
Retsina – matured in pine barrels allowing the resin to seep into the wine, giving it its unusual flavor. A great accompaniment to a light lunch
Back