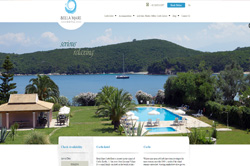 We just launched our new website
Welcome to the new Corfu Hotel Bella mare website! We're so excited to finally unveil our labor of love, and we hope you like the result. We will continue to improve and fine tune the site over the coming months.
We invite you to explore the new Bella Mare website. We hope you will find here all the information you need. We also encourage you to contact us. Please visit us regularly; we will include information about our hotel and news about the island of Corfu. We hope you find the new site more interesting and cleaner than the previous version and you will like it. Also, we invite you to follow us at our hotel blog witch you can find more interesting articles about Corfu, Greek food, Greece and the beautiful Corfu island.
Back